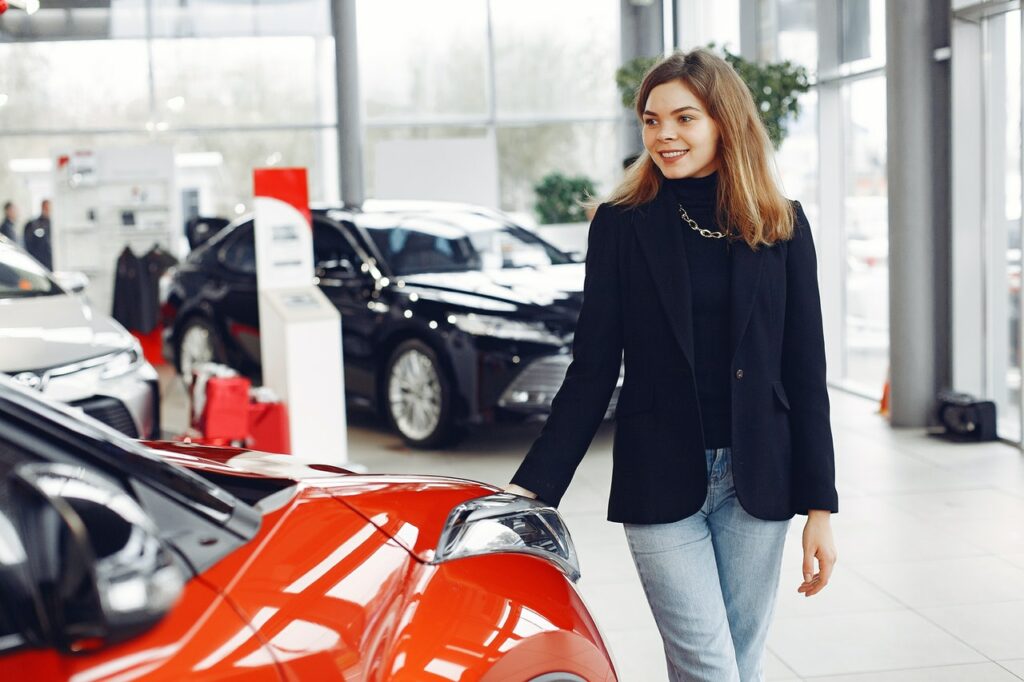 Whether you are buying your very first car or you are looking to purchase a used car for the first time, you probably have some questions about the car buying process. Though there are many similarities between the new and used car buying processes there are a few unique aspects of used car buying that you might want to be aware of. From financing to warranties and beyond, you'll want to be fully informed about how buying a used car works as well as the benefits of choosing a previously owned car over a new one.
At Autorama, we are dedicated to helping you find the car of your dreams. Our team is here to share our expert insight into the used car buying process with you. From helping you find the exact used car for sale you've been dreaming of within our inventory to matching you with the financing solution that is right for you, we are always here to help. Contact a member of our sales team today to see why choosing a used car is a great decision. We can't wait to help you find a car you love.
How To Find Your Perfect Used Car
For many buyers, finding a car, minivan or SUV that checks all the boxes on their "needs" list is the most important factor when searching for a vehicle. When you are searching for a new car, this may mean going to several dealerships to look at what they have to offer stretching your valuable time thinly. One of the benefits of choosing a used car is that most dealerships will have many options for you to consider all in one place. This simplifies your car buying process and allows you to be truly sure you've found the right one for you.
When looking for a used car dealership, some buyers return to a place they have had a great experience, get a referral from a friend or family member, or may utilize tools and listing websites that allow you to narrow down your search to a specific type of used vehicle for sale near you. Always consider that a dealership with more inventory will have more options and look for a dealership with many positive customer reviews.
Should I Buy a Used Car from a Private Seller?
When buying a used car, you always have the option to buy from a private seller rather than from a dealership. Though this can be a good option for some buyers you should keep in mind that cars bought from private sellers are generally considered to be sold in "as is" condition. This introduces the risk that the car may not be in as good of shape as you had expected and will mean you cannot get a warranty on the vehicle.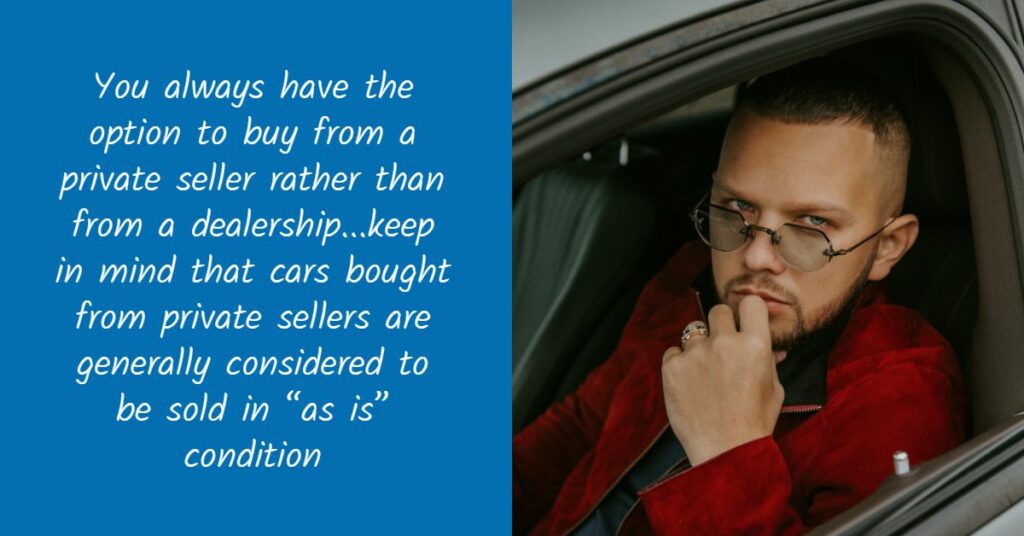 Can I Get a Warranty on a Used Car?
One of the top reasons people choose to purchase a new car rather than used is for the warranty. Many used car buyers would be happy to learn that buying a used car does not mean you cannot have a warranty on the vehicle. Though warranties on used cars may differ from those on new ones, you can feel confident that you are driving a safe and reliable car when you choose a used car with an extended warranty. Extended warranties may be available for many used cars and can be helpful with covering the cost of repairs that some car buyers worry about when purchasing a used vehicle. It is always a good idea to learn about what used car warranty options may be available to you when purchasing your used car.
What You Should Know About Used Car Financing
Financing a used car has some notable differences when compared to buying a new car, but overall, the process is essentially the same. Some of the most common questions we get about financing a used car are what the interest rate will be as well as how long the term can be. Your credit score will factor into your specific car loan but we think our previous article How to Get Approved for a Car Loan will be helpful for learning what you can do to get yourself approved.
Can You Get 0% Financing on a Used Car Loan?
When buying a new car, you may be attracted to promotional offers such as 0% financing. It should be noted that these 0% financing rates are not available for used cars. That being said, newer cars are often much more expensive than used cars and you will likely still save money in the long run despite the higher interest rate. This will be dependent on the type of loan you qualify for, if you have good credit you can expect to receive a favourable used car loan interest rate. Our article, What Should a Used Vehicle Interest Rate Be will be helpful in helping you decide which option is best for you.
Should I Use a Bank Line of Credit to Finance My Car?
If you have a good relationship with your bank using a line of credit to purchase your car might be a good option for you. Keep in mind that used car dealerships may have options that make it easier for you to finance a vehicle and get you an interest rate that is more favourable than what your bank has to offer. Those with no or low credit may find that financing a used car at a dealership is the best option.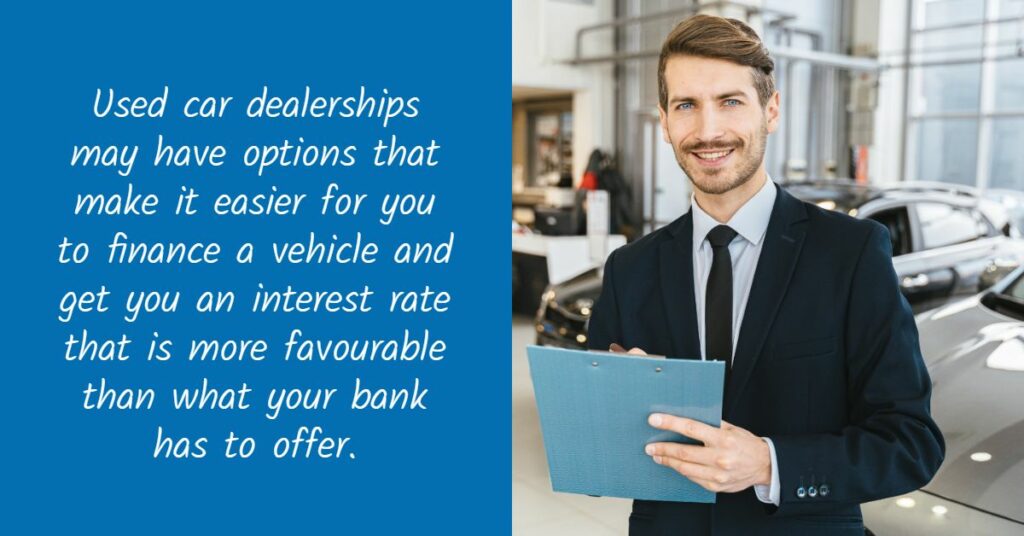 How Long Are Used Car Loans?
Our previous article, How Long Should You Finance a Used Car is helpful for allowing you to understand loan terms and which loan term option might be right for your needs. In most cases, used car loans can be as long as 84 months though every person's financing situation may be different. You could also have a car loan with a term as short as 12 months. There are many factors that can influence the term of your loan and it is always best to check with your used car dealer to help you get the best loan option for your unique needs.
Apply for auto financing online with Autorama today to get an idea of what you could qualify for. We look forward to helping you find the used car of your dreams and are here to answer any questions you may have about financing and purchasing a used car.