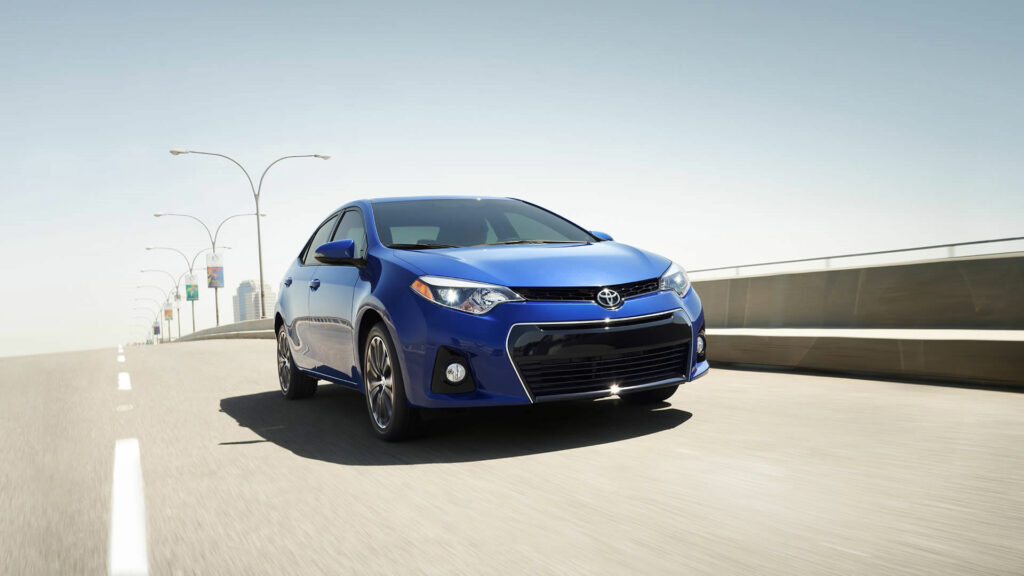 Get Approved for Financing in Minutes
The Toyota Automotive company was founded by a gentleman named Kiichiro Toyoda back in 1937 as a derivative from his father's company Toyota Industries to create automobiles. The Toyota Motor Corporation offers vehicles under 5 brands, including the Toyota, Lexus, and Scion. The other brands are not available in North America. Having covered all levels, classes and niches, it is without surprise that Toyota has built a very welcoming reputation. In Toronto's Used-car market, Toyota products have always been and still are in high demand. Used Lexus', used Toyota's and Used Scion's with all the models, they have to offer are undeniably on your average used-car buyer's wish list. Toyota currently has 5 very popular models. Regardless of model, Autorama can help your with your Toyota financing and Toyota loan needs.
The Toyota Corolla has been, and remains to be the best selling compact car. It provides efficiency, affordability and reliability in an easy-to-maintain vehicle built to last. The Toyota Corolla is a favorite for used car shoppers in Toronto looking for a vehicle due to its longevity and value retention. The Corolla, now available only in a 4-door sedan, has the same rear passenger capacity as a mid-size sedan, making it a great choice for used car buyers.
The Toyota Camry was introduced in the 80's and targeted the U.S Market specifically and replaced the old rear-wheel drive Toyota Corona. The front wheel drive Camry became known for its quality and endurance and went on to dictate the mid-size sedan market. The Camry can offer used car buyers in North York a dependable used vehicle with a luxury touch that will please the whole family. Consumers who wish for efficiency and styling of a Corolla but needs a bit more space to accommodate their lifestyle will automatically be drawn to the Camry.
Toyota was one of the first vehicle manufacturers to release a crossover SUV line. The Rav4, although larger in size now than its original model, combines fuel-economy, versatility and smooth handling into a car that meet everyday needs. The Rav4 is offered in a 5 passenger 4 cylinder engine and a much more responsive V6 version for a sportier look and drive. Both models have continued to dominate the new and used market for small SUVs. The Rav4 gives drivers an optional all-wheel drive mode that can handle snowy and ice conditions. Shoppers looking for a used Toyota SUV in Toronto and the GTA will be sure to find what they're looking for in a Rav4.
The Highlander was released in 2001 and quickly became the most popular mid-size crossover in its class. The highlander provides versatility to drivers by allowing plenty of cargo space with easy passenger access and third-row seating to ensure comfort and space. The Highlander, which started as a mid-size crossover, has increased in size over the years with upscale upholstery in the newer models. Despite its' size, the Highlander has impressive fuel economy and smooth handling. Used car buyers looking for a slightly more luxury, durable vehicle that can handle the changing seasons will find the Highlander suited to their needs.
Shoppers looking for a quality used family van in Toronto are sure to come across and consider the Toyota Sienna as a top contender. The Sienna provides versatility and reliability in an easy to drive minivan. All-wheel drive capability allows for the same handling as a mid-size SUV, while giving for room for passengers and cargo. The Sienna has one of the highest crash test scores for minivans in its class, making it a safe and viable option for families looking to buy a used car. Visit our used car dealership today for quality models.
TOYOTA
With over 200 handpicked vehicles in our showroom, you can rest assured that Autorama has the perfect vehicle to suit your needs. We're confident that you'll be able to find the car you're looking for from our great lineup of preowned Toyota vehicles. To learn more about the incredible advantages of any of our used Toyota models, come and test drive the models that appeal to you most at our location – 1205 Finch Ave. West in Toronto. We look forward to serving you!