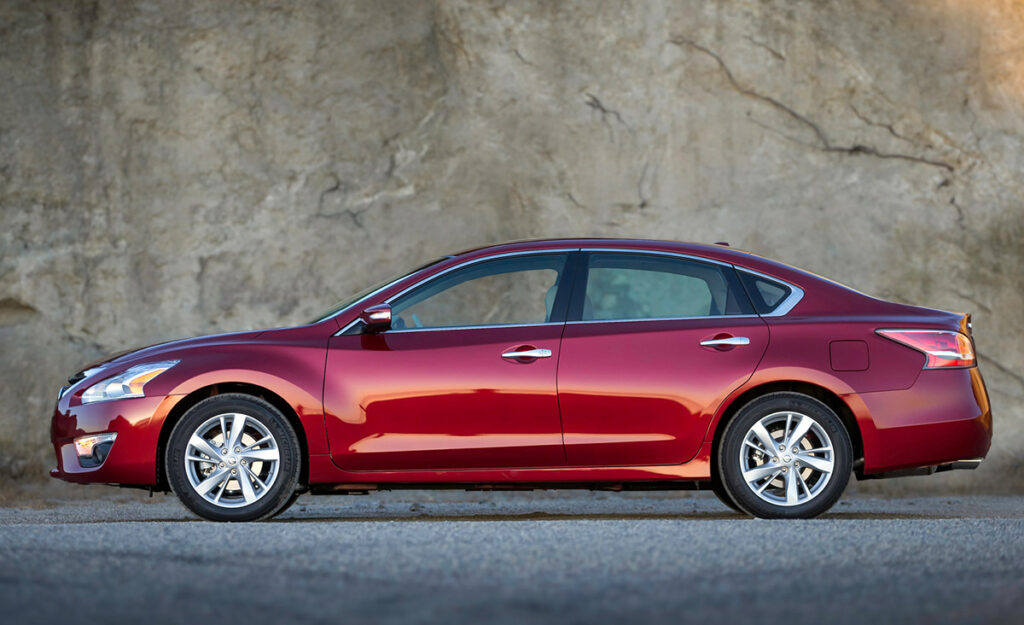 Get Approved for Financing in Minutes
Nissan, known as Nissan Motor Company Ltd was established by Yoshisuke Aikawa in 1934. Nissan is a Japanese based company headquartered in Nishi-ku Yokohama Japan, and is known as a multinational automobile manufacturer. Nissan Motors offers its autos under brands such as Infiniti, Nissan and Datsun. In 2013, Nissan Motor Company was known as the sixth largest automaker on the world. Written below are the 7 popular models Nissan offers in North America. Regardless of model, Autorama can help your with your Nissan financing and Nissan loan needs.
Looking for a sedan that's affordable with tremendous fuel economy? The Nissan Versa is available in a 4 door sedan or a Hatchback verson. The Nissan Versa combines a fuel efficient 1.6L 4Cylinder Engine with all the latest features and options. The S model features alloy rims, crystal clear two speaker sound system, adjustable driver seat and air conditioning. The SL Trim comes equipped with extras such as touch screen controls with Navigation. The easy to drive Versa is perfect for a first time car buyer as the Versa has a very spacious interior as well as cargo space that outstands some larger cars.
The Nissan Sentra has been satisfying Canadian economy car consumers since 1982. This smooth 5 passenger car carries a 1.8 liter four cylinder engine powering up 130 horsepower. The premium package offers options such as navigation system, sunroof and a profound audio system. The options on the Nissan Sentra make it a fun and comfortable ride around the GTA with cargo space that is outstanding.
The Nissan Altima does the little things right with its performance and fuel efficient drive. The Nissan Altima provides a 2.5 liter four cylinder engine, and an amazing cabin with a comfortable interior and an easy to use steering wheel. This sedan makes driving very enjoyable for the whole family to enjoy.
The Nissan Maxima is a budget friendly sedan yet focuses on performance and luxury. This sedan is a great and powerful sedan because of its horsepower of 290, 3.5 liter V6 engine. For those buyers who love the sport cars yet want to keep it at a lower cost, this sedan offers sport package, and for other consumers who enjoy luxury cars, the premium package is the best one to select. . The Maxima is a great preowned vehicle in Toronto for families looking for a luxury Nissan car.
The Rogue is Nissan's crossover SUVs in the North American market. Nissan offers this model in a 2.5 liter four cylinder engine 5 passenger, thus, being a fuel efficient SUV. The Rogue is a top seller for consumers who want a sedan yet want the benefits of an SUV. The interior and cargo space is quite spacious making it comfortable and enjoyable for long rides in the GTA.
The Nissan Murano was one of the first cross-over SUVs released in the Toronto and GTA market. In 2003, this cross –over SUV was nominated for the North American Truck of the Year. The Murano has a 3.5 liter V6 engine 5 passenger producing 260 horsepower. The interior has high quality materials such as double stitched leather seats, rain sensing wipers, and touch screen interface.
Looking for a luxurious Nissan SUV in Toronto? The Pathfinder is the perfect large SUV with a spacious and comfortable interior. The Pathfinder is an easy to drive family vehicle, offering a 3.5-Liter V6 engine producing 260 horsepower. This SUV proposes spacious cabin setting and cargo space. The striking interior will definitely leave you impressed.
Ever wondered what the suitable minivan is for a growing family? The Nissan Quest will keep the kids happy as the Quest comes with a DVD system making driving for parents in Toronto a lot more soothing. Nissan has worked hard to make the Quest a luxurious minivan with the option of leather seats, iPod and navigation system. The luxurious interior and spacious cargo space is fitting to serve families in Toronto.
NISSAN
With over 200 handpicked vehicles in our showroom, you can rest assured that Autorama has the perfect vehicle to suit your needs. We're confident that you'll be able to find the car you're looking for from our great lineup of preowned Nissan vehicles. To learn more about the incredible advantages of any of our used Nissan models, come and test drive the models that appeal to you most at our location – 1205 Finch Ave. West in Toronto. We look forward to serving you!