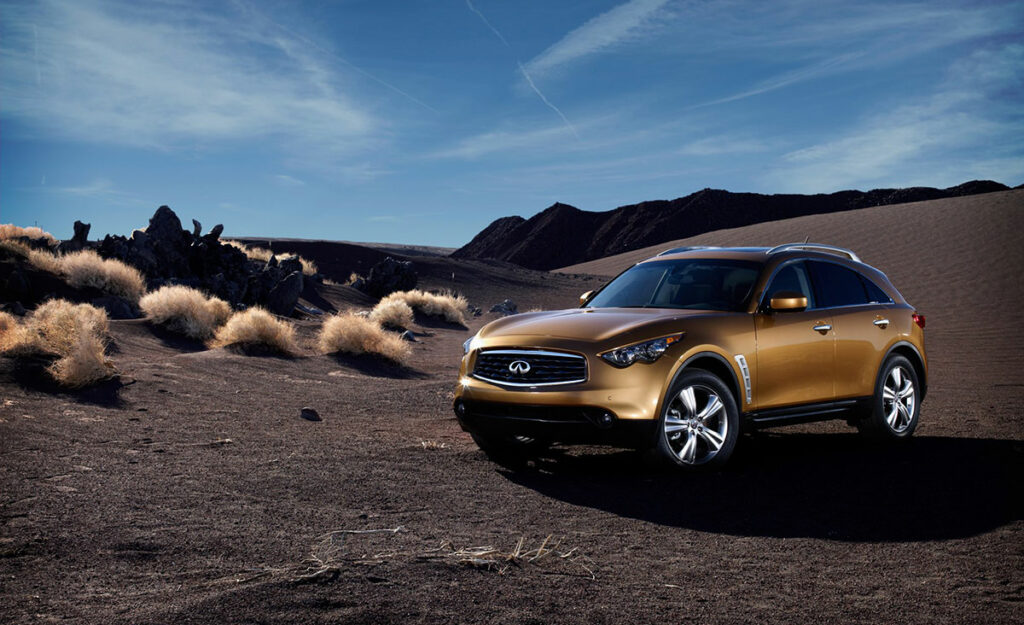 Get Approved for Financing in Minutes
In 1989, Nissan launched their luxury brand Infiniti, around the same time that Honda launched its luxury line. Infiniti started off to a slow start in comparison to its competitors like Acura and Lexus. In order to compete in the every growing market, Infiniti's marketing focused on its monochrome interior design and signature analog clock that still exists in today's models. It wasn't until Infiniti launched their G35 model; the Nissan Skyline based sedan, which is the reason the Infiniti brand took off; and became even more successful with the FX35 SUV Model. Regardless of model, Autorama can help your with your Infiniti financing and Infiniti loan needs.
The Infiniti G 35 (later replaced with the G 37 as the standard model) was Infiniti's first segment in the Luxury sedan market. It was built on the same platform as the Nissan 350z sports car and is single-handedly responsible for putting Infiniti in the public eye. A combination of high performance and lush luxurious interior build, the G35 slowly evolved into the G 37 which carries the same powerful 3.5Litre V6 engine. Paddle shifters and options like dual climate and leather were featured in various trim models. Most notably, the G37x features an All Wheel Drive system for superb handling. Visit our showroom to see which models are offered in Toronto.
The M37 is renowned for its top of the line luxury interior and upholstery and a long list of standard luxury options such as heated and ventilated seats, xenon head lights, dual climate control, rain-sensing windshield wipers, leather upholstery, sunroof, 6-speaker sound system and even more. Equipped with a 6 cylinder powerful engine, the M37 impresses with its sharp handling and rhythmic acceleration, which is barely heard from inside the cabin. The M37 is a standard rear-wheel drive, however is available in the M37x model that features an All Wheel Drive system for your safety and tough Canadian winters. Contact one of our Automotive Consultants for more information.
The EX35 is a staple for used car shoppers looking for an AWD Cross-Over Utility vehicle. It is built with the same powerful engine used in the G37 giving it its sedan-like handling; sharp and agile. Paired with all the trimmings of a luxury vehicle like leather upholstery and navigations systems and large cargo space, shoppers don't have to sacrifice sport and luxury for cargo space and utility. The popularity of the EX35 in the last few years has flooded market with these models, as can be viewed on Autorama's online showroom.
If you like the EX35 model but are looking for a bit more room and comfort for your family or lifestyle, the FX35 will be the perfect fit for you. It almost looks like a concept car, available to the public. With its futuristic design, it is an eye-catcher on the road and from within. Providing the same engine power as the EX model with a seven-speed transmission, instead of the 6-speed offered in the EX model, the AWD FX35 has hit the sweet spot between Compact and Full-Size SUV. Loaded with all the options of a Luxury Infiniti, the FX35 has become a best seller in the Used Car market.
The best selling full-size sport utility vehicle has hit the market. The JX35, now called the QX60 is everything you ever wanted and needed in an SUV. Smooth, butter-like steering and acceleration is paired with incredible cargo space and technological innovations. With 3rd row seating, the JX has a 7 passenger capability and rear folding and adjustable seats for ample storage and legroom. Options vary with different trim models. True to Infiniti style, even base models are loaded with luxurious and lush options.
INFINITI
With over 200 handpicked vehicles in our showroom, you can rest assured that Autorama has the perfect vehicle to suit your needs. We're confident that you'll be able to find the car you're looking for from our great lineup of preowned Infinity vehicles. To learn more about the incredible advantages of any of our used Infinity models, come and test drive the models that appeal to you most at our location – 1205 Finch Ave. West in Toronto. We look forward to serving you!