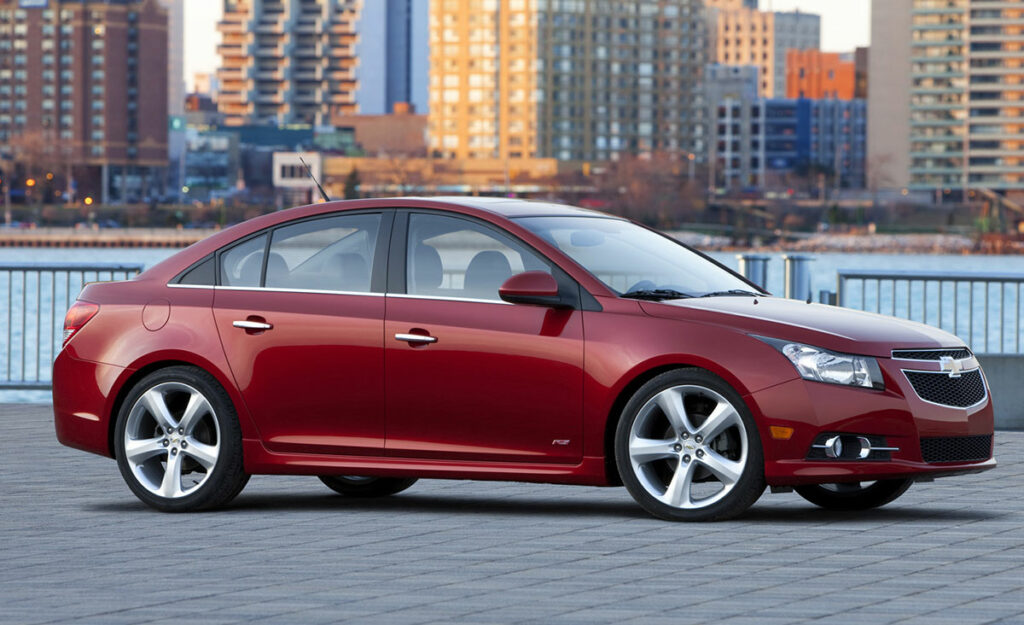 Get Approved for Financing in Minutes
Chevrolet Division of General Motor Company, also known as Chevy, started out on November 3, 1911 by Louis Chevrolet who teamed up with the founder of General Motors, William C. Durant. This American automotive based company introduced a line of economy cars to compete with Henry Ford, who was becoming the top seller of vehicle in the United States. After a few presidential changes within Chevrolet, the automobile brand launched in Europe under the name GM Daewoo, a move which solidified Chevrolet as the globally recognized value brand of vehicles. Today, Chevrolet offers one of the top used cars in dealerships around Toronto and the GTA with a diverse range of vehicles. Read below for the top 4 most popular model Chevrolet has to offer. Regardless of model, Autorama can help your with your Chevrolet financing and Chevrolet loan needs.
In the class of compact cars, there are many options with the Chevrolet Cruze being a viable choice. With surprisingly sharp handling and precision steering offered in a 1.8 Litre 4cylinder engine, the Cruze has impressed drivers with its newer models. Loaded with options and features that would normally be seen in a luxury model, the Cruze comes standard with power options, Bluetooth phone, Heated Seats and a six-speaker sound system that is sure to impress your passengers. Higher trim models offer upgrades like Navigation systems , high quality leather interior and sport tuned suspension system.
With many changes and evolutions since the 1970s, the Chevrolet is now built and marketed as a mid size sedan with top of the line safety aids for drivers and passengers. The perfect family vehicle, this Malibu comes in a range of 4 cylinder engines, depending on what you want out of your vehicle; fuel economy, or a more aggressive drive; its your choice. This explains why Chevrolet has succeeded, catering to the needs and wants of their consumers. Visit our online showroom to have a virtual look inside our models.
When the Equinox was first introduced, it had trouble finding its place in the market. Today, it has exploded into one of the most popular Cross-overs available due its perfect mix of a compact and full-size SUV. Newer models offer high built quality to create a comfortable and roomy cabin, various engine sizes for fuel economy, and plenty of High Tech options to keep the whole family entertained.
Many families who are growing and expanding are looking to trade in their mid-size SUV for a larger full size version. For those who don't like the look of a minivan, a Chevrolet Traverse is a great option. With 7 passenger capability, the Traverse has the passenger and cargo space of a minivan with the security and drive of a Full-Size SUV. The base model of the Traverse is well equipped options including rear view camera, Bluetooth, satellite radio and USB capable audio system. Higher trim models will offer leather interior, navigation systems and OnStar service. Because of the low price point, the Traverse has become a favourite in the Used car market in Toronto, with more shoppers opting for second hand Traverse models.
If you are looking for a high quality used Chevrolet Curze in Toronto or other models, please visit AUTORAMA located at 1205 Finch Ave West. We would be happy to give you a tour and show you our wide selection of preowned vehicles.
CHEVROLET
With over 200 handpicked vehicles in our showroom, you can rest assured that Autorama has the perfect vehicle to suit your needs. We're confident that you'll be able to find the car you're looking for from our great lineup of preowned Chevrolet vehicles. To learn more about the incredible advantages of any of our used Chevrolet models, come and test drive the models that appeal to you most at our location – 1205 Finch Ave. West in Toronto. We look forward to serving you!